Press Report. 11th December 2017
Ware Cup
Saturday 9th December
Loughton
The annual Ware Cup cross-country match was held on a bright but cold Saturday morning at Loughton.
The race of 8 km was over a mainly grassland course and Sam Rahman led home the Ilford AC challenge in 21st spot with a good time of 30 mins 27 secs. Next home for the club was Diarmuid Mac Donnell in 39th with 33 mins 35 secs and Andy Catton came home 45th in 35mins 16 secs and he was the first M60 to finish. The scorers were completed by Dennis Briggs in 50th in a time of 35 mins 41 secs..
Kieran McKenna was 1 place behind in 51st in 35mins 55 secs, with Ed Skinner 80th (40.19) Satha Alaga 88th (41.55) and Suki Jandu 104th (51.06) also in action for the men.
Bree Nordin was the first Ilford finisher in the ladies race home in 10th spot with 37 mins 10 secs. Gaye Young was next home in 41 mins exactly for 20th and 5th in the F45 category with Nicola Chester 34th with 49m 28s and Pam Jones 36th in 55m 24s closing out the team.
The strong Victoria Park Harriers team won both the mens and ladies trophies with Ilford finishing 4th in both matches.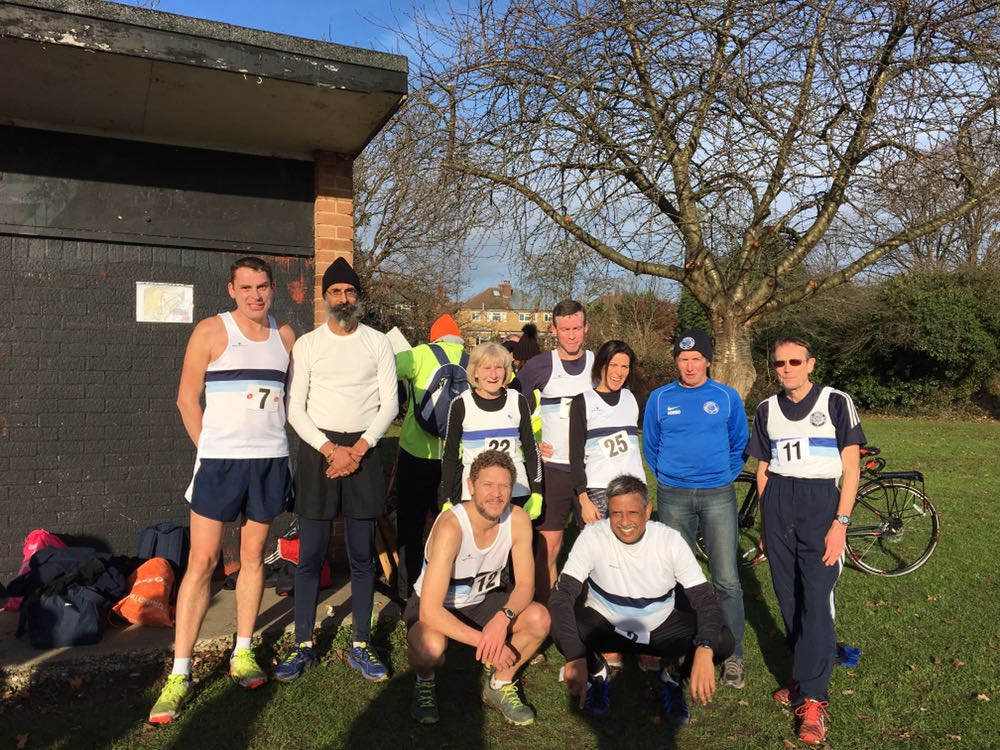 Christmas Olympic Park 5k + 10k
Sunday 10th December
Olympic Park
Four 'hardy' (some would say foolish) Ilford AC Runners took themselves off to the Olympic Park in Stratford on Sunday Morning for the Christmas 5k and 10k runs.
The snow had begun to fall early in the morning and by the time the race had started there was a thick covering on the ground, the temperature was freezing and the snow continued to fall.
At times it was an effort just staying upright, so pb's were never going to happen but all 4 agreed they had a great time in the adverse conditions.
Leading the team home in the 5k was Billy Green in 26:13 whilst Catherine Green and Pam Jones ran together to finish in 44:57.
Carol Muir opted for the 10k on the day and was pleased with her time of 1:09:40 in the conditions.