Juniors Track and Field groups are coached by Ian Gains and Wayne Hick.


The Rascals section (School Year 4, 5 and 6) is currently oversubscribed. The waiting list for this session is currently full.

 The session is on Tuesday only 6.30pm – 7.30pm and the coach is Neil Johnstone.
Information can be found on the "About Us" page or alternatively contact the relevant person below for further details.
  News  
After his superb run in the recent Essex Championships, where he not only won the Under 20 400m in a Personal Best of 48.84, and became the 3rd fastest Ilford Junior of all time, Sam is ready for the big one the Club Profile Questionnaire. Read all about Sam's dream 4x 400 team and his Pet Hamster on the who's who Page
Read more
Sam Malpass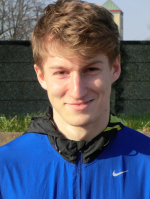 Name: Sam Malpass Born: 28th October 1995 Date Joined IAC: July 2011 Personal Bests: 60m: 7.16 100m : 11.1 200m: 22.7 400m: 48.84 Notable Performances: 1st in Essex Schools in 2012. 6 medals, 6 pbs in 6 races at Essex counties indoor in the 60m 200m and 400m. 1st at Essex Counties for 400m in 2013 Representative Honours: Jack Petchy Award for helping the development of younger students in PE, and breaking ...
Read more
Essex Track and Field Championships Days 1,2 &3 2013
SWEET SUCCESS FOR ILFORD ATHLETES AT ESSEX CHAMPS On the 6th, 25th and 26th May, Ilford athletes displayed their months of hard training with some excellent performances at the Essex County Championships Day 1, 2 and 3. The Essex County Championships Day 1 commenced on the 6th May at Thurrock Stadium,  which saw the Ilford youngsters compete over the distance of 200m ...
Read more
Midweek Indoor Middle Distance Races – Report 25/02/2013
A group of four endurance athletes from Ilford AC took part in an evening of 800m and 1500m at the indoor track at Lee Valley Athletics Centre. Tom Gardner was the best of these and took part in two races. In the 800m he recorded 2 mins 05.20 secs and followed up with a recording of 4m 17.89s for the ...
Read more
Lee Valley Indoor – 06/01/2013
Metaswitch Games – Lee Valley 6th January 2013 Kelly Mavididi 60m: 8.58s 3rd place (PB)60m: 8.58s 5th place (PB)400m: 61.48s 2nd place (PB)Tamara Chambers 60m: 8.11s 3rd place (=PB)60m: 8.15s 3rd place 400m: 66.45s 4th place (PB)Sam Malpass60m: 7.35s 1st place (PB)60m: 7.39s 4th place Tino Nyabowa 400m: 64.83s 4th place Essex League (Cross Country) – Epping Forest 12th January 2013Kelly ...
Read more