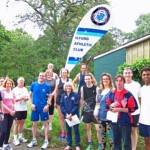 We are a running group affiliated to Ilford AC but specialising in road and cross country.
Whatever your level we want to help you enjoy your running.
Some reasons to join Ilford Harriers

Fed up with running on your own? Want to join a running club but think you're not fast enough?
Done a bit of running and want to improve? Training for your 1st Marathon or just interested in jogging?
Or just want to get fit.
 The groups will be led by friendly and experienced runners who will be able to advise you and coordinate your needs. We will organise and supervise running and training groups for all levels
 Whatever your reasons this club is for you. Don't be shy, Don't be nervous – take the plunge!
Come and join us on Wednesday evenings 7pm – Valentines Park (Melbourne Road Entrance). When daylight allows we run in the Park, otherwise a 2-3 mile for beginners on the road. We also have excellent facilities in Hainault Forest, Chigwell for off-road running and the track at Cricklefields Stadium.

Contact: Robin Davis or Billy Green

Where we are:-Cricklefields Athletic Stadium (opposite Cauliflower Public House) 3 Cricklefied Place, Ilford, IG1 1FY.  The stadium is situated behind The Isaac Newton Academy . On the main 86 bus route from Stratford to Romford and only 5 minutes walk from Seven Kings Railway station.
Road  and Cross Country Headquarters :88 Lambourne Road, Chigwell Row, IG7 6EN