Ilford AC Press Report. Monday 1st January 2018
Ilford AC Boxing Day Handicap
Hainault Forest
December 26th 2017
A record field of 23 brushed off the Turkey and Christmas hangover's to toe the line for the 9th annual Ilford AC Boxing day handicap. The overnight rain had turned the course into the usual swamp and choice of footwear was completely irrelevant.
The idea of the handicap is that the slower runners go off first at varying time intervals and the fastest runner goes off last and tries to catch everyone, unfortunately time constraints meant the course was not marked or marshalled. A few people were unaware of the course and made up their own route.
First off were Sharon and Roger Honey, with Roger being a former 110m hurdler the race was slightly over distance, they were followed by Julia Galea, Sally Gillam and Pauline Tester.  New member Anna Crawley off 4 minutes made a good start. The Hick family had dominated the race the last two years, and young Aaron aged just 9 was competing in the race for the first time. Eventually after 20 minutes the last runner Paul Grange of Havering went off.
The on course report suggested that Satha was struggling with the mud, Jak Wright had lost one of his shoes and at a certain point of the course everybody had chosen their own route. Meanwhile back at the front of the race Anna was making the most of her generous handicap and had moved into the lead. Further down the field young  Aaron was passing people and Stephen Philcox was moving the fastest.
Anna held onto her lead to win by 41 seconds, from Sally Gillam, closely followed by Pauline Tester.
First male home in  5th place was former winner Alun Jones and another former winner Matthew was the first of the Hicks home, closely followed by younger brother Aaron. Steve Philcox turned out to be the fastest of the day  for 15th
 
 
Gun Time
H/Cap Min
Actual Time
 

1

Anna Crawley

33

36

04

29

36

2

Sally Gillam

34

17

03

31

17

3

Pauline Tester

34

34

03

31

34

4

Sharon Honey

35

08

00

35

08

5

Di Crisp

35

10

3 30

31

40

6

Alun Jones

35

19

05

30

19

7

Mathew Hick

37

07

14

23

07

8

Julia Galea

37

33

01

36

33

9

Wayne Hick

37

51

11

26

51

10

Aaron Hick

37

51

11

26

51

11

Karl Hick

39

01

14

25

01

12

Satha Alaga

39

10

06

33

10

13

Billy Green

39

10

06

33

10

14

Roger Honey

39

10

00

39

10

15

Steve Philcox

39

16

18 30

20

46

16

John Crawley

39

58

17 30

22

28

17

Sam Rahman

40

10

18 30

21

40

18

Neil Crisp

40

22

18

22

22

19

Jak Wright

40

54

17

23

54

20

George Hick

41

13

14 30

26

43

21

Paul Grange

41

31

20

21

31

22

Diarmuid MacDonnell

41

38

16 45

24

53

23

Dennis Briggs

41

46

16 30

25

16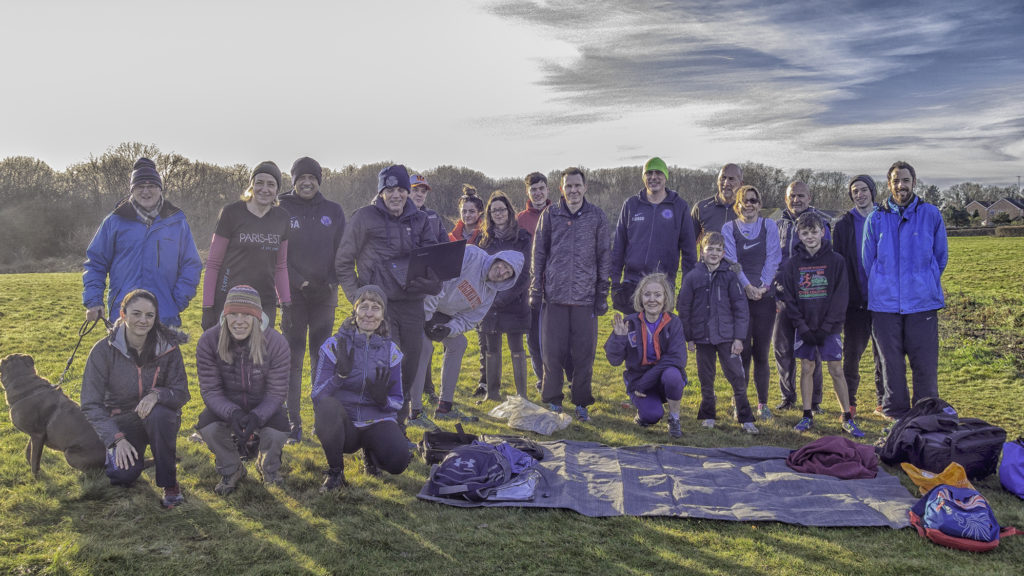 Witham Boxing Day 5
Witham
Tuesday 26th December 2017

Malcolm Muir was one of three runners from Ilford AC in a 400 strong field contesting the Witham RC 5 mile run held over a rural course on a beautiful sunny Boxing Day morning.
Conditions were great apart from the slight headwind on the road out of Witham, however, this was compensated by slight wind 'assistance' on the final 2 miles back into Witham.
Malcolm, on the road to full fitness after a long injury still finished in 12th place overall clocking 28:10.
Nicola Chester was second home for Ilford in 293rd place clocking 46:17, followed by Malcolm's sister Carol Muir in 330th place for 50:09

Ilford AC 10 mile Cross Country – (Race for Kev)
Hainault Forest
Saturday 30th December 2017
SENIORS

On Saturday Ilford AC hosted their winter showcase 10 mile cross country event on a cold crisp morning.
Over 70 runners were treated to the thick mud and hills that characterises most of the 3.3 mile course which is negotiated 3 times.
Overnight rain ensured the course would be slower than previous years, with just one runner, Thomas Payne, breaking the 1 hour barrier finishing in 58:34 and finishing 6 minutes ahead of his closest rival.
Ilfords first 3 runners finished in 3rd, 4th and 5th places.
First home was Paul Holloway in 1:05:20 for 1st VM40, followed by Stephen Philcox in 1:08:54 for 1st VM50 and John Crawley in 1:10:35 for 3rd Senior Male on the day.
With the race also doubling up as the clubs Cross Country Championships the three also picked up Club Gold, Silver and Bronze medals.
Also running in the mens team was Dennis Briggs 17th in 1:20:20, Billy Green 40th in 1:33:33 and Satha Alaga 55th in 1:43:55
Breege Nordin was the first Ilford lady home in 24th place 1:23:41 for 1st VF55 and club Gold medal.
Silver went to Nicola Hopkinson 31st place in 1:27:20 and 2nd VF55.
A well deserved Bronze went to Carlie Qirem competing in this race for the first time and finishing 33rd in 1:29:37 and second Senior female on the day.
Completing the ladies team were Anna Crawley 51st in 1:42:12, Julia Galea 56th 1:44:08 and Freida Keane 59th 1:47:15
The race is now held annually to commemorate Ilford AC stalwart Kevin Newell who unfortunately suffered a serious brain injury three years ago and now requires full-time care . A donation will be made from the race proceeds to a suitable charity. It is not only supported and promoted by his comrades at Ilford Athletic Club but many of his friends that he has made from the local running community and throughout the county also turn up to either run, volunteer, or just cheer on the runners in tribute to Kevin.
Ilford AC 10 mile Cross Country – (Race for Kev)
Hainault Forest
Saturday 30th December 2017
Juniors
Ilford Juniors had the option of running one lap, 3.3 miles, on Saturday.
Six Juniors took up the challenge.
First home was Aaron Samuel, who was actually in 2nd place over the entire field at the end of lap one. Aarons time was a remarkable 20:12.
Aaron was followed home by Jak Wright 22:04, Bradley Deacon 23:13, Matthew Hick 24:02 and Jordan Hinds 25:23.
Jack Hall, unfortunately, had to pull up with a twisted ankle half way around the course.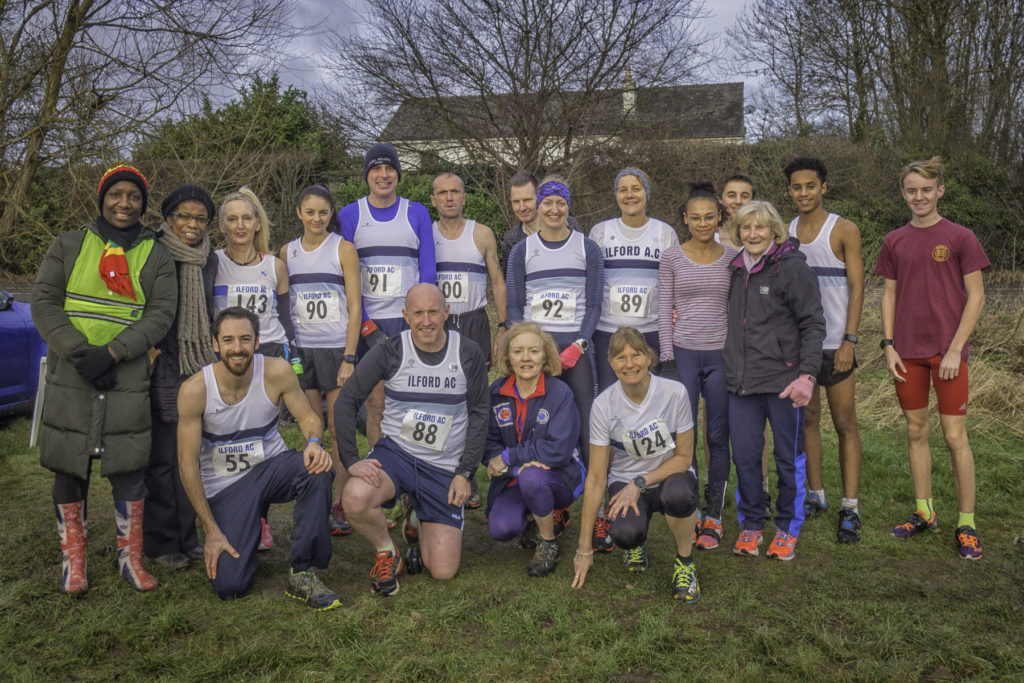 Chingford League
Alexandra Palace
Saturday 30 December
Sam Rahman guested in the latest match in the winter Chingford League. The course was a challenging one over 3 laps of the old horse racing course plus a stiff climb up to the Palace on a very wet and muddy course. This is one of the shorter races of the season of just over 4.5 miles. Sam ran a well controlled race coming 45th in a field of around 15 in 34 mins 24 secs.