Ilford AC Press Report 7th November 2017
Inter Club Vets Match (5 miles)
Loughton
4 November 2017
The annual match for masters athletes took part at the Roding Valley Country Park last Saturday with Ilford AC entering teams in both mens and ladies matches.
Steve Philcox led the way for the club with an excellent run to come home in second place in 30mins 04 secs. Diarmuid Mac Donnell backed him up well in 12th with 34 mins 11 secs and Andy Catton placed 19th in 35 mins 42 secs.
ED Skinner was the next Ilford man across the line in 38m 58 s placing 35th and Bill Green completed the men's line up in 44th with 39m 38s
Bree Nordin was the leading Ilford lady in a fine 4th in the women's match in 37 m 18s with Nicola Chester 30th in 48 m 42s and Frieda Morgan one place behind 10 seconds later
The Ilford men finished 4th in the mens competition and the ladies 6th in their match.
Strong teams from Victoria Park Harriers won both matches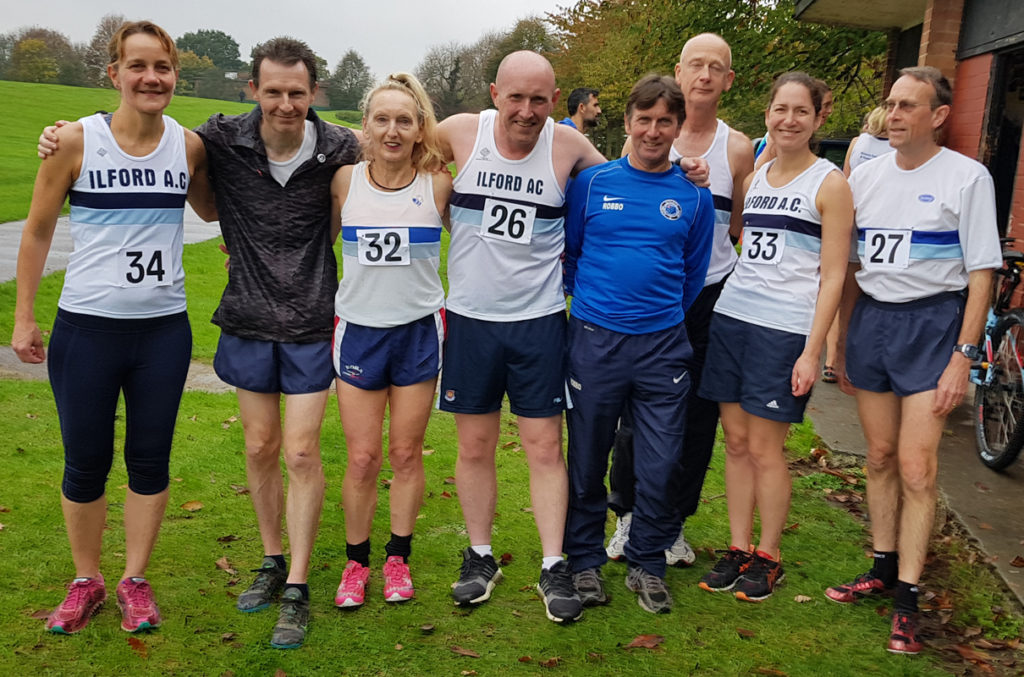 Billericay 10km
5 November 2017
There was a squad of 7 runners from Ilford Ac in the field of 600 for the Billericay 10km.
The 10km race took place on a sunny if a little chilly Sunday morning.
Best on the day for the Ilford club was Dennis Briggs in 65th spot with a new personal best time of 43 mins 26 secs.
Next home was Tony Young, who also improved his best time at the distance, in 48 mins 13 secs for 165th place.
Completing the men's line up was Satha Alaga in 185th in a time of 48 mins 59 secs.
Leading lady for the club was Julia Galea who recorded 56 mins 01 secs for 341st and 5th in the F55 category.
Next home were 2 runners making their 10km race distance debut. Launa Broadley was delighted to break 1 hour in 59mins 36 secs for 423th, while Natasha Mansouri was 467th with 61 mins 48 secs.
The evergreen pam Jones finished 68 mins 12 secs in 533rd and was 3rd lady in the F65+ grouping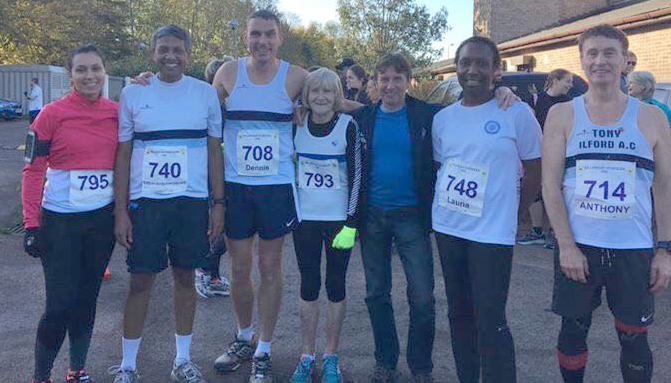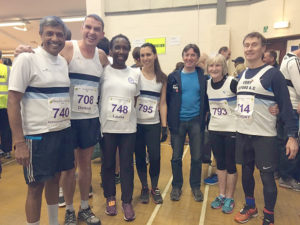 Poppy Run 3 miles
Chelmsford
5th November 2017
The Poppy run is a series of 3 mile runs held in 15 parks around the country in support of the Royal British Legion and the Poppy appeal.
Over 300 runners took part at the Chelmsford event on a cold but bright Sunday morning, and whilst the event was aimed more at families and fun runners, with many people running with their children and even a few with their dogs, 3 Ilford runners went along to join in the event.
All runners were given a Poppy T-Shirt to run in, and collected a nice medal at the end.
Leading the trio home was Bill Green in his second run over the weekend with a time of 23 mins 35 seconds.
The 2 ladies, Nikki Fairbairn and Catherine Green ran together and came in at just over the 30 minute mark.