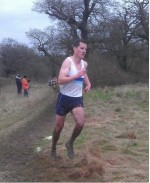 Name: Peter Clinch
Born:  December 1971
Date Joined IAC:  September 1987
Personal Bests:
Track :
100m 12.2(1988)
200m 25.1 (1988)
400m 51.2 (relay)
600m 83.3(1999)
800m 1.55.5 (1999)
1500m 4.03.3 (1997)
3000m  9.07
5000 15.56 (1997)
3000m steeplechase. 9.55.1 (2003),
Road:
5k 16.55 Barking Park  1990
10k 33.07 (Battersea Park London Colleges League, 1992. This was
almost certainly a short course but I'm taking it.
Half Marathon 1 hour 54 mins  Yellow Advertiser 1985
Representative Honours: None. Boo hoo.
Most Satisfying Performances: 800m. My PB beating Wayne Hick's by 0.1
seconds
My Biggest Disappointment: Not getting under 44 secs for 400m. Not running
faster over 800 -and being serious for just a moment, probably should have
done so (the latter).
Typical Weeks Training: Was is training?
Favourite Sessions: As a senior, something like 6 x 400 with 2 and a half
mins recovery, as vet 6 x Stella Artois with V+R recoveries.
Who is your Greatest Rival: General apathy and numerous personal demons
How would you improve the sport of Athletics: Ban football
Favourite Car: Austin A30
Favourite Athlete or Sportsperson: John Platt
What other sports do you follow: Athletics and mud wrestling
Best Country Visited: Cornwall.
Favourite Food and Drink: Chips with Gravy
Favourite TV Shows: Ben 10 is rather imaginative
Last Film Seen: Harry Potter and the Prisoner of Azkaban
Last Book Read: The Gruffalo
Favourite Singer/Band: Craig Burrow
Last Album Bought: Can't remember. Refer to favourite Vet training session
above.
Last Concert Attended: The Stranglers; Shepherd's Bush
Do you have any Pets: Memories of a former cat.
With you going on first leg, who else would be in your dream 4 x 400m team:
Ooh now that's a toughie, something like: Me, handing on to Pierre Le
Clinche, who in turn hands to Pedro Crunch with P Clinchmeister bringing the
baton home. 2:58.9. Sorted