Juniors Track and Field groups are coached by Ian Gains and Wayne Hick.


The Rascals section (School Year 4, 5 and 6) is currently oversubscribed. The waiting list for this session is currently full.

 The session is on Tuesday only 6.30pm – 7.30pm and the coach is Neil Johnstone.
Information can be found on the "About Us" page or alternatively contact the relevant person below for further details.
  News  
Young Athletes Report – Newham 2nd Feb 2014
2nd February 2014 – Newham Athletics 60m Open Series: On the 2nd February a handful of Ilford AC athletes competed in what was the 2nd Newham Sprint Series of the season. The 60m results are as follows: Asad Ahmed (U20M): Round 1: 7.55i Round 2: 7.52i Naomi Browne (U17W): Round 1: 8.12i Round 2: 8.02i PB Gabriel Yiadom(U17M): Round 1: 7.49i Round 2: 7.43i PB
Read more
Ilford AC Young Athletes Indoor performances
27th December 2013 – Newham 60m Indoor Sprint Series The highlight of the day came from Gabriel Yiadom who secured a first place finish and a new personal best with a time of 7.49i. Gabriel Yiadom (U17M): 60m Round1 – 7.49i PB 60m Round2 – DQ Sam Malpass (U20M): 60m Round1 – 7.33i 60m Round2 – 7.27i 1stJanuary 2014 – Lee Valley New Year Competition On the 1st January2014, ...
Read more
Another one of Jeffreys Athletes in the Profile section, this week its Tamara Chambers. Who after having a couple of quiet years with injury and exams is flying again. Setting PB's at 100, 200 and 400m this year and coming second in the Essex championships, she also has six Goldfish.
Read more
This week profile is Kelly Mavididi, another member of Jeffrey's successful sprint squad and also, a recent county medallist over 400m with a time of 59.97 seconds. Kelly has also competed over 800m, 1500m and 3 miles, and tells us in her profile about buying Spice Girl albums.
Read more
Kelly Mavididi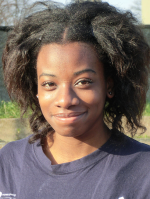 Name: Kelly Mavididi Born: 15/04/1996 Date Joined IAC: Sept. 2011 Personal Bests: 60m – 8.35i 100m – 13.04 200m – 25.99 300m – 43.7 400m -58.92 800m – 2.20.96 1500m – 5.26.0 3 Miles – 21.04 Notable Performances: 200m, 400m and 800m Bronze medallist at the Essex County Championships 2013. 400m Bronze medallist at the Essex and Eastern Indoor Championships 2013 Overall Bronze medallist (Gold medal for Redbridge) at the East London Mini Marathon Trials 2013 800m ...
Read more