Ilford AC Press Report. 13th November 2017
New York City Marathon
Sunday 5th November
Last weekend Nicola Hopkinson of Ilford AC crossed the Atlantic to run the New York City Marathon. This classic event starts on Staten Island and runs through all 5 New York boroughs before finishing in Central park on Manhattan Island.
Nicola ran a well judge race  reaching half way in 1hr 48 mins 36 secs and pushing on in the more difficult second half to come home in 3hrs 42mins 27secs.
This was her best time for 7 years over the marathon distance.
She placed 7705th overall in a field of 50643, 1457th female and 18th in the F55 age category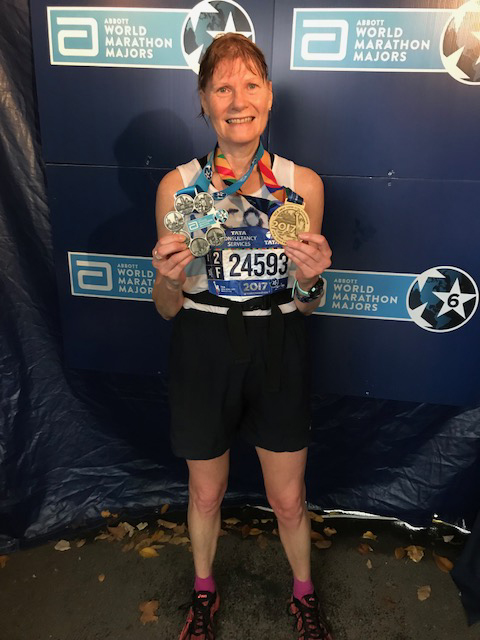 Chingford League
Redbridge cycle Circuit
Tuesday 7 November
Six athletes from Ilford AC took the opportunity to run as guests in the Chingford League 5km event at the Redbridge Cycle Circuit at Hog Hill. The multi- lap races features a number of climbs and gave the runners a hard work out.
Featuring with the fastest run from the Ilford club was Sam Rahman in 42nd place in 19 mins 23 secs. Next home was John Crawley in 50th spot with 19 m 48s and Diarmuid Mac Donnell was close behind in 19m 58s for 54th. Ed Skinner finished 118th in 24m 41s. Bree Nordin was best for the Ilford ladies recording 23m 43s for 23th in their race, with Nicola Chester 68th in 28m 30s
Stebbing 10
Sunday 12 November
The Stebbing 10 held over scenic country roads around the North Essex village this year incorporated the Essex 10 mile road running championship. The race started after a short Remembrance Day service at the start line. There was a small squad from Ilford AC in the championship.
Leading the club in 20th position was Steve Philcox who finished in 61 mins 41 secs for 20th place overall in a field of over 400. His performance earned him 2nd place in the M50 age category and the Essex silver medal in that grouping.
Neil Crisp put in a fine performance in 28th with 63m 55s and 5th place in the Essex M50 championship. Steve Parker just missed out on Essex medals in the M50 group in 4th and 104th overall with 74m 49s.
Carlie Qirem had a good run smashing her personal best for the distance by 1 minute 50 seconds coming home 146th and 28th female in 78m 10s, while Frieda Morgan raced the distance for the first time finishing in 97m 48s for 370th spot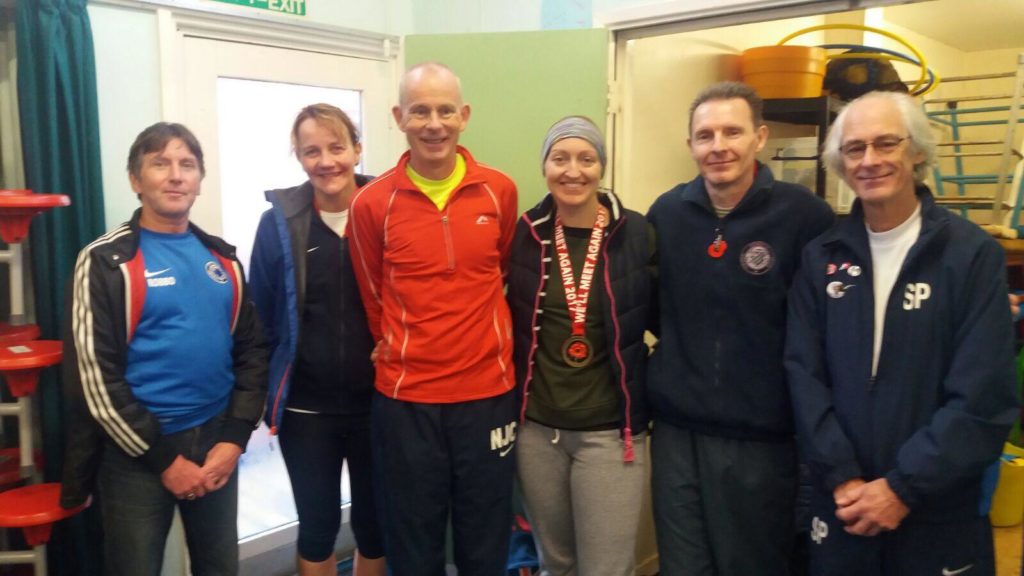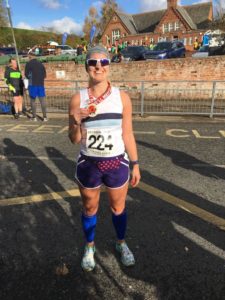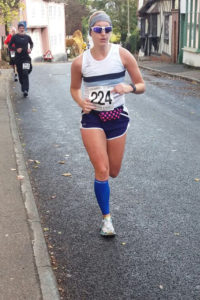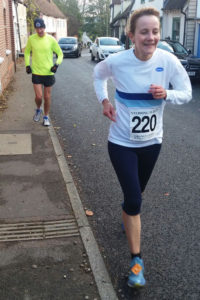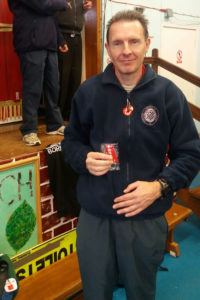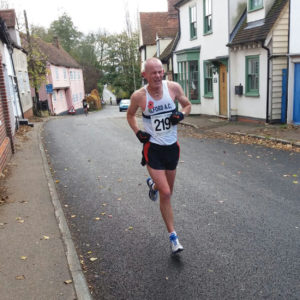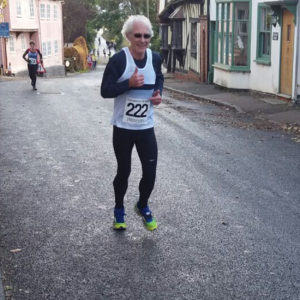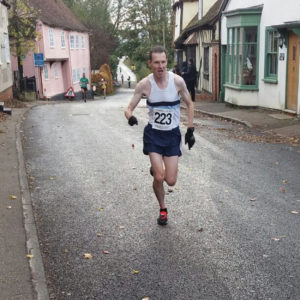 Honours for Ilford Walkers
 Enfield open 7 mile walk
Saturday 11th November
Ilford sent a team to the annual Enfield Open 7 Miles' Walk held on a nippy Saturday afternoon over 7 one mile circuits at Lee Valley Athletics Centre.
Before racing commenced, start line silence was observed for Remembrance. The guest "Mr. Starter" was former Ilford AC President Bill Sutherland BEM, a 1970 Commonwealth Games bronze medallist, who was warmly applauded onto the start line to perform his duty.
Pride of place went to in-form Mark Culshaw who finished 8th with 66 minutes and 7 seconds on the stopwatch. It was the final event in the 10-race 2017 Enfield League series, and the points claimed by Culshaw saw him confirmed as the League's top male. He was well supported by Stuart Bennett, 14th in 72.21 and who defied back injury to turnout, and Dave Kates, 16th in 73.02. They were backed up by a downfield Dave Ainsworth who made a rare appearance to close home Ilford's team to claim 3rd team prizes. Both Culshaw and Kates had the kudos of winning gold medals for their age group categories. It was a red-letter appointment for Ilford AC's Michael Croft who was appointed Chief Judge.