Press Report 24th July 2017
Southern Veterans Track and Field League
Hemel Hempstead
10th July 2017
In addition to the previous SCVAC report of 10th July, field events were also on the schedule.
Pete Whiting placed 6th in the M35 Javelin with 22m 65. Cliff Warren placed 4th in the M40 Long Jump with 4m 58. Ted Skinner's 3m 47 in the M60 Long Jump secured first place.
Henry Ricketts cleared 1m 20 in the M35 High Jump for 8th place and Cliff's 1m 30 in the M50 category meant that the team had won four events on the evening.
IAC finished 5th in the match and 4th overall for the season.
London Heathside go through to represent the men and Stevenage the women in the end of season finale.
Thank you to all participants and supporters. There's plenty of time to get some good training in for next season where we will be looking to improve on this fantastic season.
Silver Starling 5k
Battersea Park
17th July 2017
On a muggy Monday evening Steve Philcox ran in the silver starling 5k self-transcendence race at Battersea park (they have given every race in this series a name)
On a fast and flat 2 lap oval course Steve was pleased to clock a time of 17.15 finishing in 21st place and first 50 vet.
AJ Bell London Triathlon 
Excel Centre
22nd July 2017
Ilford Athlete Nicola Hopkinson competed in the gruelling 'London Triathlon Sprint' race at the Excel Centre in London on Saturday.
The race consists of a 750m Swim, 20k Bike Ride and ends with a 5k run.
Nicola started well with a 14:55 swim, continued in fine form for a 46:48 Bike ride and finished with a very impressive 22:31 5k to finish with a chip time of 1:30:47 after transitions to finish in 647th place and 2nd female in the 55-59 category.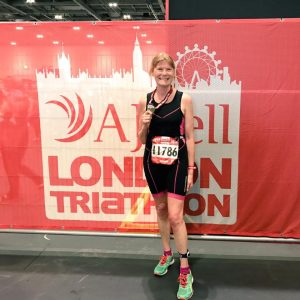 Race for Life (cancer research) 5k 
Hylands Park, Chelmsford
23rd July 2017
Julie Gillender and Carol Muir both ran in the 'Race for life' (cancer research) 5k race at Hylands park Chelmsford.
This event has special meaning for Julie and Carol as they both lost their mums to cancer.
They both struggled a bit with the race as it was quite tough being on a cross country course that was quite muddy, both coming in at just over 30 minutes
Julie and carol would both like to thank all the club members that sponsored them as they both managed to raise over £200 between them.