Press Report 3rd May 2016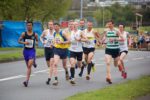 Witham 5 Mile Road Race
(incorporating the Essex Championships)
Monday 2 May
There was a good turn out of endurance runners from Ilford AC in the Witham 5 mile road race, which incorporated the Essex Championships, run over a gently undulating course on Bank Holiday Monday Morning.
Tom Gardner put together a great race to win the event and the Essex title, the second Ilford runner to do so in the last 3 years, he was the runner-up last year. Tom's winning time was 25m 48s, a new personal best.Also medalling in the county championships was Steve Philcox in 15th place with 28m 46s, taking the silver in the M50 category. There was a good run from Terry Knightley in 27th with 29m 57s and Neil Crisp just failed to break 30 minutes in 30th with 30m 02s. Paul Holloway was next over the line with a new personal best of 30m 12s.In 37th was Tony Hyde recording 30m 31s, with Andy Catton finishing in 35m 01s for 107th.
Leading the ladies was Mel Jones in spot 112th with 35m 16s which placed her 4th in the F45 grouping. Supporting her was Nicola Hopkinson in 182nd with 38m 57s and Dianne Crisp recording 42m 02s for 248th.
Also improving their best times for the distance were Declan Cullen (35m 50s) Billy Green (37m 42s) Ernie Forsyth (40m 32s) and Julie Gillender (48m 34s).
The squad were completed by Satha Alaga (40m 17s) Steve Parker (44m 06s) Julia Galea (42m 21s) Carol Muir (47m 08s) Pam Jones (50m 01s) and Kim Baxter (55m 42s)
SCVAC Vets League – Match 1
Injury, traffic and the small matter of a marathon the day before meant that a small contingent of Vet athletes ventured to Lee Valley on a cold, windy and wet Monday evening to represent IAC at match 1 where the team finished 7th.
Steve Uttley won the M35 2km walk in a time of 10.56.6. Henry Ricketts finished 4th, 5th, 5th and 2nd in the M35 100m (13.2), 400m (68.2), Shot Put (6.88m) and Long Jump (4.38m).
Peter Whiting covered the M35 Hammer finishing 7th with 15.86m. In the M50 category he finished 4th in his 100m heat (8th overall on timing with 16.4), 9th in the Long Jump (2.50m) and 2nd in the Shot (7.13m).
Andy Catton covered the M50 1500m finishing 7th (5.56.8) and M60 100m placing 7th (17.6). John Batchelor on his return after injury finished 4th in the M60 1500m in 6.12.7. Ted Skinner also ran in the M60 1500m as a non-scorer finishing just ahead of John in 6.10.9 and competed in the M60 Hammer achieving 4.85m for 6th.
Full results are on Power of 10.
The team move on to Stevenage for match 2 on Monday 16th May.