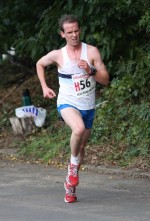 Name:  Malcolm Muir
Born: 02.05.74
Date Joined IAC : July 1999
Personal Bests:
Track
100m 13.5
200m 28.2
400m 58.1
800m 2.05.6
1500m 4.15.6
3000m 9.03.6
5000m 15.40.0
10000m 33.04.6
3000s/c 10.14.7
Road
5km 15.40
5 Miles 26.06
10km  32.06
10 Miles53.36
Half Marathon  71.31
20 Miles 1.53.53
Marathon 2.35.26
Notable Performances:  4th inter-counties half 2007 and essex to win essex
team gold!
Representative Honours: Essex for the road 10km,half and 20m track for 5000m
xc for inter-counties and the fell inter-counties!
My Biggest Disappointment: Not breaking 2.30 for marathon (yet)
My Most Embarassing Moment:  Getting beaten by ladies!
Typical Weeks Training: Train every days no speed work but lots of tempo runs
ave 50miles a week!
Favourite Sessions: 5xpints of cider 5xjds coke
Who is your Greatest Rival:. Bloomers
How would you improve the sport of Athletics: have more drinking races!
What car do you Drive: white van man!
Favourite Athlete or Sportsperson: Spencer Hempstead!
What other sports do you follow: Cricket and cycling
Best Country Visited: Canada
Favourite Food and Drink: Steak jd and coke
Favourite TV Shows: Only fools and horses
Last Film Seen: View to a kill
Last Book Read: British athletics 2013
Favourite Singer/Band: Travis
Last Album Brought:Queen best of
Last Concert Attended: Red hot chillies pepper
Do you have any Pets: Three cats
With you going on first leg, who else would be in your dream 4 x 400m team:
Andy Catton,Carol Muir and Pete Whiting!
.