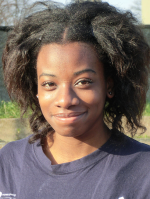 Name: Kelly Mavididi
Born: 15/04/1996
Date Joined IAC: Sept. 2011
Personal Bests:
60m – 8.35i
100m – 13.04
200m – 25.99
300m – 43.7
400m -58.92
800m – 2.20.96
1500m – 5.26.0
3 Miles – 21.04
Notable Performances: 200m, 400m and 800m Bronze medallist at the Essex
County Championships 2013.
400m Bronze medallist at the Essex and Eastern Indoor Championships 2013
Overall Bronze medallist (Gold medal for Redbridge) at the East London Mini
Marathon Trials 2013
800m Gold medallist at the Essex and Eastern Indoor Championships 2012
4x100m Bronze medallist at the Essex County Relay Championships 2011
Bronze medallist for Redbridge (5th place overall) at the East London Mini
Marathon Trials 2011
Representative Honours: Being selected to run for the Barking &
Dagenham/Redbridge Mini London Marathon team for 6 consecutive years (U13 –
U17). Being selected to run for the Redbridge team over the distance of one
mile for the Lord Mayors Mile Show in 2010 as an U15.
Most Satisfying Performances: Winning and running a time of 58.92 over the
400m at the Woodford Green Open.
Coming second to Coach Jeffery over the 800m with a PB of 2.20.96
Finishing 35th in the borough challenge and 96th overall in the Virgin Mini
London Marathon 2013
My Biggest Disappointment: 16th June 2012 – Missing out on a medal at Essex
Schools' Championships with a very disappointing time of 2.35.43 over 800m.
My Most Embarrassing Moment: Failed attempt at setting up the blocks in the
Essex & Eastern Indoor Championships for the 200m in which the officials had
to carry my blocks off the track for me.
Typical Weeks Training: Monday – Pool session then 1 x 300m/200m
Tuesday – 600m, 500m, 400m, 300m, 200m, 100m
Wednesday – Pool session, then 1 x 300m/250m
Thursday – Sledge runs then 4 back to back sprints over 100m
Saturday – Hill session. 1 long run then some hill sprints over various
distances.
Favourite Sessions: Pool sessions or relay sessions.
Who is your Greatest: Rival: Time!
How would you improve the sport of Athletics: Giving every club the same
facilities and equipment so that none are more advanced than the other
What car do you Drive: None
Favourite Athlete or Sportsperson: Perri Shakes-Drayton & Allyson Felix
What other sports do you follow: Football occasionally
Best Country Visited: Switzerland
Favourite Food and Drink: Waffles and strawberry Fanta
Favourite TV Shows: The Mentalist & Keeping Up With The Kardashians
Last Film Seen: The Hunger Games
Last Book Read: Jane Eyre
Favourite Singer/Band: Beyonce!!
Last Album Brought: Spice Girls when I was young
Last Concert Attended: I don't think I've been to any
Do you have any Pets: None
With you going on first leg, who else would be in your dream 4 x 400m team:
Amantle Montsho, Sanya Richards-Ross and Allyson Felix would be the anchor
leg!