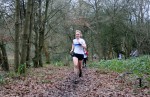 Name:  Jenni Sheehan
Born: 01.04.1989
Date Joined IAC: Feb 2006
Personal Bests:
5k  22.20  Valentines Park 5k 2012
5 Mile 36.09  Ilford AC 5Mile championship 2011
10k 45.54 Brighton 10k 2010
Notable Performances: Winning a bronze Essex medal for the third ladies team at Braintree 5mile
2010 with Nicola and my mum
Representative Honours: Representing Ilford AC
Most Satisfying Performance:Essex League season 2013 where I had pretty good runs, especially at the
Orion meet
My Biggest Disappointment: Thinking I ran really well at the Essex Road Relays in 2013 only to get home
and check my time was faster 2 years ago!
My Most Embarassing Moment: Turning up to a Vets cross country race being the only senior there. And
they all beat me!
Typical Weeks Training: Monday: Circuits, Tuesday: track, Wednesday: short recovery run, Thursday:
Hills/Speed session, Friday: Rest, Saturday: Short recovery run, Sunday:
Long, slow run
Favourite Sessions: Hill work over Hainault/ Anything off road
Who is your Greatest Rival: My mum and my sister who also run for Ilford AC. We have good family
rivalry!
How would you improve the sport of Athletics:More money given to grass roots development through volunteers and coaches
What car do you Drive: Purple KA
Favourite Athlete or Sportsperson: Jessica Ennis and David Weir
What other sports do you follow: Badminton
Best Country Visited:  Australia- Loved how everyone was always outdoors and the weather is much
better than the UK!
Favourite Food and Drink: My nan's roast dinner, I like a cheeky Malibu and Lemonade occasionally
Favourite TV Shows: Strictly Come Dancing, The Great British Bake Off, Masterchef
Last Film Seen: Iron Man 3
Last Book Read: Harry Potter (the 4th one)
Favourite Singer/Band: Michael Buble
Last Album Brought: Michael Buble
Last Concert Attended: The Big Reunion
Do you have any Pets: 3 Goldfish called Dean, Jonny and Nemo
With you going on first leg, who else would be in your dream 4 x 400m team:My Mum, My Dad and my Sister (a full packet of Crisps)