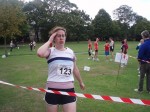 Name:  Meredith Floate
Born:  In the 1970's
Date Joined IAC: 2009
Personal Bests:
5K  28:46  Valentines Park 26/09/2010
5 Miles  45:00  Valentines Park  10/04/2011
10k         58:33  Hastingwood  03/04/2011
Notable Performances:  Southern Cross Country Championships 58:29 Jan 2011,
Brooks Serpentine Last Friday 5K 32:23 March 2013
Representative Honours:  None but I'm still trying.
Most Satisfying Performances:  Wix 5 47:27 Oct 2010 felt like I won the
Olympics/nearly won a prize!
My Biggest Disappointment:  Not completing a 5 mile race at Rafael Park in
Havering but I wasn't prepared.
My Most Embarassing Moment:  Anytime I'm sick at the finish line, it's not a
pretty sight…
Typical Weeks Training: A circuit training session, a Warrior track Session,
an Ilford Harriers road session, and maybe a cross country forrest session
(stop laughing, club membership secretary, I know where you live!!!)
Favourite Sessions:  Any session which includes Pam Jones and/or Robin Davis
Who is your Greatest Rival : The person directly in front of me in any race
How would you improve the sport of Athletics:  More free events with top
Athletes and activities to encourage people to get involved.
What car do you Drive:  Its Blue but I ride shotgun
Favourite Athlete or Sportsperson: Ronnie O'Sullivan and Dominic Denucci
(both Italian)
What other sports do you follow: Snooker, Football, Baseball, NHL, Figure
Skating and Gymnastics
Best Country Visited: Italy
Favourite Food and Drink: Baked Ziti, Cheese Chips and Vanilla ice cream
float with A&W cream soda
Favourite TV Shows:  Game Shows and anything with David Tennant
Last Film Seen: Terminator 2 on Blu Ray
Last Book Read: "To Reach The Clouds" by Philippe Petit
Favourite Singer/Band:  The Beatles, Duran Duran, Genesis, Talking Heads,
Blondie, and The Police.
Last Album Brought:  I collect Vinyl so I just got the 7″ Spainish  issued copy of
"Ebony and Ivory"
Last Concert Attended: Duran Duran at Hyde Park last summer
Do you have any Pets: Tropical fish, and they are eating me out of house and home but
I love 'em
With you going on first leg, who else would be in your dream 4 x 400m team:
Mo Farrah, The Late Flo Jo, and Frank Lampard. I think we would all, in
theory, get along well.