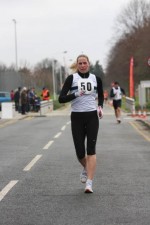 Name : Neringa Aidietyte
Born: 05.06.1983
Date Joined IAC : Early 2011
Personal Bests:
10 km walk – 46.14 min.
20 km walk – 1.33.05
Notable Performances: 7th place in European Chapionship U23, 5th place in
Universiade (2007), multiple Lithuanian champion, British champion twice (20 km walk)
Representative Honours: 2012 London Olympics (39th place), European
Championship in Barcelona 2010 (15th), Worls Championship in Daegu 2011(DQ),
multiple Lithuania's representative in Race Walking World and European Cups.
In 2008 won team 4th place in World Cup.
Most Satisfying Performances: PB and qualification for London Olympics in
Lugano (SUI) 2012
My Biggest Disappointment : London Olympics.
My Most Embarassing Moment: Getting sick in 20 km World Cup race and
throwing up (with only 100 m to go to the finish line) on the road in front
of all the spectators. Somebody even took a picture of me and post it on
Facebook! Thanks God they didn't tag me!
Typical Weeks Training: Mon. 15 km walk, Tuesday – speed session of 12×1 km
or 5-7×2 km, Wed. 20 km walk, Thursday – 15 km run, Friday – fartlek 10-15
km, Sat. – 20-25 km walk. Sun – day off
Favourite Sessions: run and swimming (off-season)
Who is your Greatest Rival: My best friend and fellow Lithuanian Brigita
Virbalyte.
How would you improve the sport of Athletics: Advertise it the same as
football and get bigger media's attention to it
What car do you Drive: I don't own a car at the moment
Favourite Athlete or Sportsperson: Michael Johnson
What other sports do you follow: Basketball, Football
Best Country Visited : Switzerland
Favourite Food and Drink: Pasta and water
Favourite TV Shows: Friends, Scandal, Grey's Anatomy, Sex And the City
Last Film Seen: A Few Good Men
Last Book Read: F. Scott Fitzgerald "The Great gatsby"
Favourite Singer/Band: Beyonce, Adele, E. Sande, Pink
Last Album Brought: E. Sande "Our version of Events"
Last Concert Attended: Does the Olympics Closing ceremony counts?
Do you have any Pets: I'm a dog person and all my life had dogs but at
the moment I don't have any pet.
With you going on first leg, who else would be in your dream 4 x 400m team:
Usain Bolt (I'm sure he can pull off 400 m), Jessica Ennis and Ashton Eaton